Why I am the best person to sell your home
The foundation of my professional attitude is based in absolute trust, integrity and a rigorous, systematic approach to my work. The sale of a property can be a highly emotional and, at times, stressful process. I am here to absorb these aspects, to guide you, and to be on hand to help at every moment.
We never need to look too far back into the past to see how global events and ever-changing trends can influence the market. YOUhome's insight is uniquely current and relevant by using our own ground-breaking technology which allows us to provide you with factual and accurate property market and sales tracking data in real time. We deliver you a bespoke and relevant service and the best advice in the industry.
My experience in the property industry, including working for more traditional agents, led me to look for somewhere that was prioritising intelligence, efficiency and innovation to deliver advice and service excellence. I entirely believe that the YOUhome approach, methodology and application is the future of the industry.
I pride myself on my communication, my reliability and my commitment to delivering exceptional client service and advice.
If you are considering a move, are on the market without achieving a successful sale, or are looking for honest and precise advice, I would love to demonstrate what we can do, our track record and all the resource at our disposal here at YOUhome.
I will be your single point of contact and you can hold me personally accountable for selling your home
YOUhome Property Times W11 Q1 2022
YOUhome Property Times W11 Q2 2022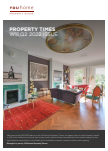 Welcome to the Q2 edition of the YOUhome Property Times, an expert view on local property trends in W11.