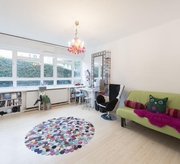 £579,950 Aston House, Portobello Road, W11
Two double bedroom flat (713 sq ft), reception room, eat-in kitchen, bathroom, separate lockable storage room conveniently placed. Peaceful and light. Very well located for shops, schools and other great facilities...
---
Please give us your name and a preferred means of contact and we'll get in touch to arrange a viewing.
The information you have provided us will be used in the terms set out in our Privacy Policy. You will not be added to any marketing lists unless you give us consent to do so.