Why I am the best person to sell your home
Property experience and the best information brings the best results.  I have lived in the area for over 20 years, I've been in the property business for over thirty years, as a graduate and agent with Knight Frank, a developer with The Raven Group and have sold properties large and small, complex and simple and know how to get the job done and at best value.
Using the best information in the property business we work on a one to one basis with each client.   From the outset it is a personal service.  Prior to marketing there is a highly informative period of market briefing combining YOUhome's platform with my experience.  This combination enables the client to be at their most informed.  The advice I give is thoroughly researched, experienced and second to none.
I present all properties using specialists and the latest techniques and we promote properties on all channels possible, including highly active current relationships with all the best buying agents. I do all the viewings (Sunday mornings if needs be), provide all the feedback (personally and digitally) and provide a clear channel of information and advice at all times that then enables the client to make key decisions when they need to be made.  The service is second to none.
I am paid on a commission only basis and have helped to design the business to provide the best way estate agency can be done.  As a consequence, you will know I will work incredibly hard to achieve the best result.
Added to which we as a business have the flexibility many other agents do not.  This flexibility means the best result for the client.
Business is growing for me on the back of success and referrals by happy clients, the best recommendation someone can get.
I'm proud of the advice and service I provide.  As I say, both are second to none.  I'd be delighted to work for you and to be accountable to you for the sale of your property.
I will be your single point of contact and you can hold me personally accountable for selling your home
YOUhome Property Times W11 Q1 2022
YOUhome Property Times W11 Q2 2022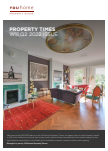 Welcome to the Q2 edition of the YOUhome Property Times, an expert view on local property trends in W11.
Recently sold properties
See the videos below for my insight on some properties recently sold in the area.