Hi Jo! So first, tell us a bit about yourself and BreafastinBed?
BreafastinBed is a breakfast delivery company based in the heart of Ladbroke Grove brought to life by myself and Max. Along with the promise of getting your breakfast delivered to your home in 25 minutes or under, BreafastinBed is healthy, fresh and homemade, making it all the better. I'm always looking to source the freshest and most tasty ingredients whilst Max develops new recipes for items to go on our menu.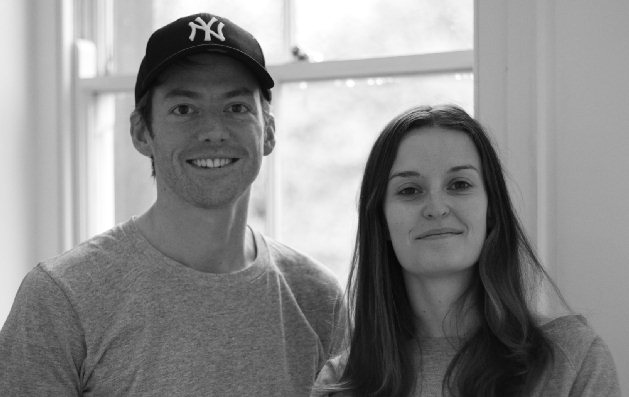 How did BreakfastinBed first begin?
BreakfastinBed was started by myself and Max when we were living in a shared house with friends. The idea sprung to life one morning from a food related discussion we were having. We came up with the business idea and designed some flyers the same day and got up and running straight away. The idea was so important to us because we truly love breakfast and believed in the idea. We received orders from our very first weekend in business and have been growing ever since. 
How has the business grown from the start until now?
Initially, we only operated weekend delivery but have moved to 5 days delivery (Wed – Sun) from January this year. We are always looking for ways to expand our offering, from January we started delivering to offices. We are currently working on our website to make it as user friendly as possible. It is important for us to grow the business but more important is to make sure our current offering is solid before moving onto the next step. Our team is always growing too, we have a team of 6 now which is exciting!
What's your favourite part of the day with BreakfastinBed?
I love putting the orders together. I love the satisfaction in knowing that the food is being delivered looking great and smelling delicious. I must admit, I do quite like the product development side of things too. We do reserve part of the day to test new foods for the menu, which is fun – as you could imagine.
We're passionate about local businesses. What does being a local business mean to you?
Building relationships with other local businesses and supporting them is really important to us. We love to support local businesses when possible, it is something we want to do more of. We would love to support local bookshops with book launches or readings; we would be really happy to provide breakfasts for things like that. We are always looking to partner with other businesses like florists for Mother's Day. We don't supply flowers, but if we work with other companies who can do that it is important to support each other. 
A couple of weeks ago we were asked to deliver breakfast for a customer who was going to propose. We have delivered birthday breakfasts, we always make sure we have cards and ribbons on standby for such occasions. We do also have an alcohol license so if someone wants a bottle for a special breakfast, they can! We love playing a part in those special events our customers' lives.
What can guests expect from your breakfast service?
We offer the promise of receiving your breakfast within 25 minutes and it will be looking delicious and smelling great. Sometimes our delivery team are the only members of the BreakfastinBed team that our customerswill see so it is important our delivery team are friendly and welcoming characters.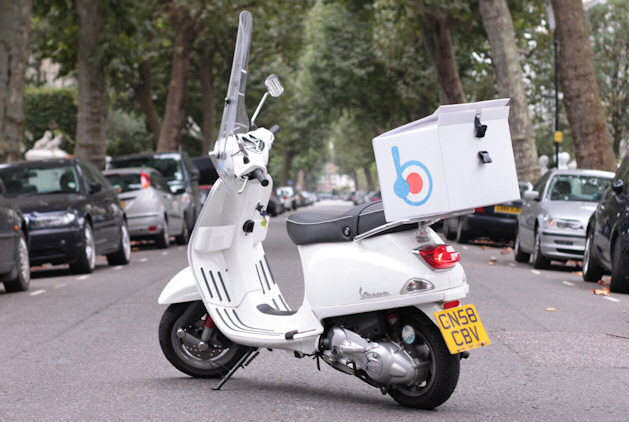 Tell us a bit more about your love for the freshest and best ingredients. 
This really represents the ethos of the company. Max and I both have a natural desire to eat well and believe it is very important for a healthy life. Because of this it was a natural fit for BreakfastinBed to have the freshest and best ingredients. We are always on the lookout for new suppliers and we regularly get up very, very, early to visit the local markets and get the best of the local ingredients. 
What's the most popular / your favourite option on your menu?
My favourite, is the Sweety Beety juice which consists of beetroot, lemon, melon, apple and ginger. It is delicious! It is a bright redish-purple colour. It is nice to be able to drop into customers' orders because the colours are so vibrant! 
In terms of an item on the menu that is very popular, there is 'The Works Butty' which is sourdough bread, bacon, tomato chilli chutney, gruyere butter with an egg and it's all put together and toasted. We've had customers tell us it's the best bacon butty they've had and we're proud of it.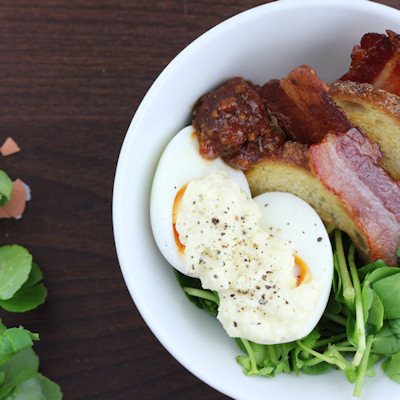 How important is Social Media to your business?
We want Social to be our shop front. Because we don't have a shop front, we want people to see their orders being created and delivered over Social; we want people to be able to tweet us with what they thought of their breakfast. Every order on your receipt it says 'snap and tag your breakfast' for you to share on social media. We want to have to a close relationship with our customers online. 
What is your relationship like with Notting Hill? / what does 'local' mean to you?
We love Notting Hill, as we have lived here we know the local cafes, restaurants and area which is really important. The main reason we brought the business to Notting Hill is because we love it so much and we wanted to get back into the community. From our customers' perspective being local means you can afford to get to know your customers and chat with them and understand what they really like.
Visit the BreakfastInBed website here: www.breakfastinbed.co.uk and stay up to date with the latest news and offering from BreakfastinBed on social media:
Facebook: https://www.facebook.com/BiBHQ
Twitter: https://twitter.com/bibhq 
Instagram: https://instagram.com/bibhq/